October 15th, 2022
HelloWorld Rogaining – An Adventure in American Village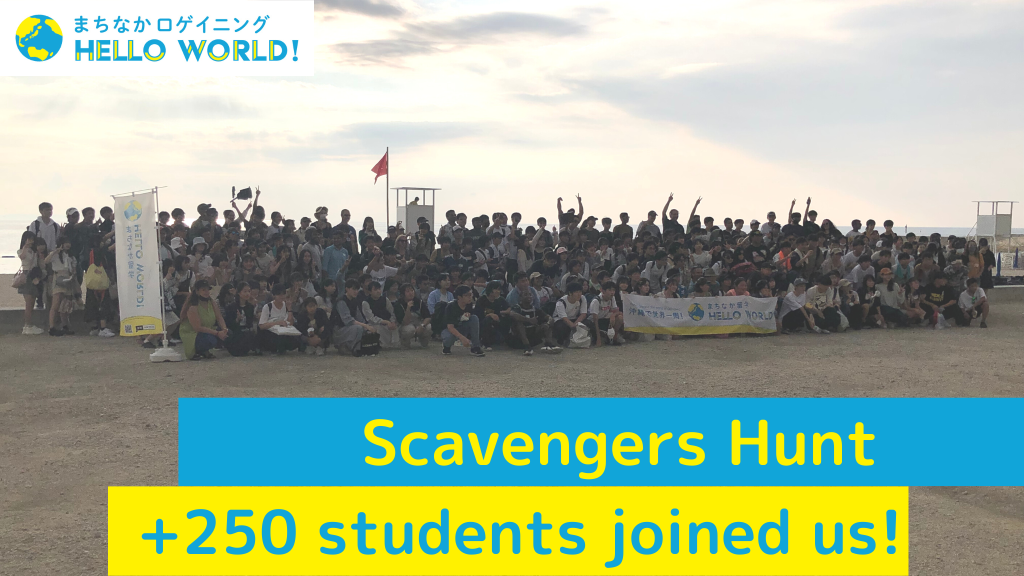 On Tuesday, October 4th, HelloWorld Rogaining hosted over 240 Japanese students and 36 English speakers in an afternoon of cultural exchange, English language practice, and fun mission completion. A special congratulations go to Jeremy Smith, our reigning rogaining champ!
The goal of HelloWorld Rogaining is to create a unique interaction for Japanese students who want to enhance their English language skills and have real-world experience with fluent English speakers. By incorporating friendly, interactive missions, like recording short videos and taking pictures at local landmarks, the students can have a casual conversation and gain confidence in their English.
We are so grateful for all of the participants who helped make this HelloWorld Rogaining event a success everyone! If you missed out, or participated and are ready for more, you can sign up for our next HelloWorld Rogaining here.
"Nikkei Newspaper"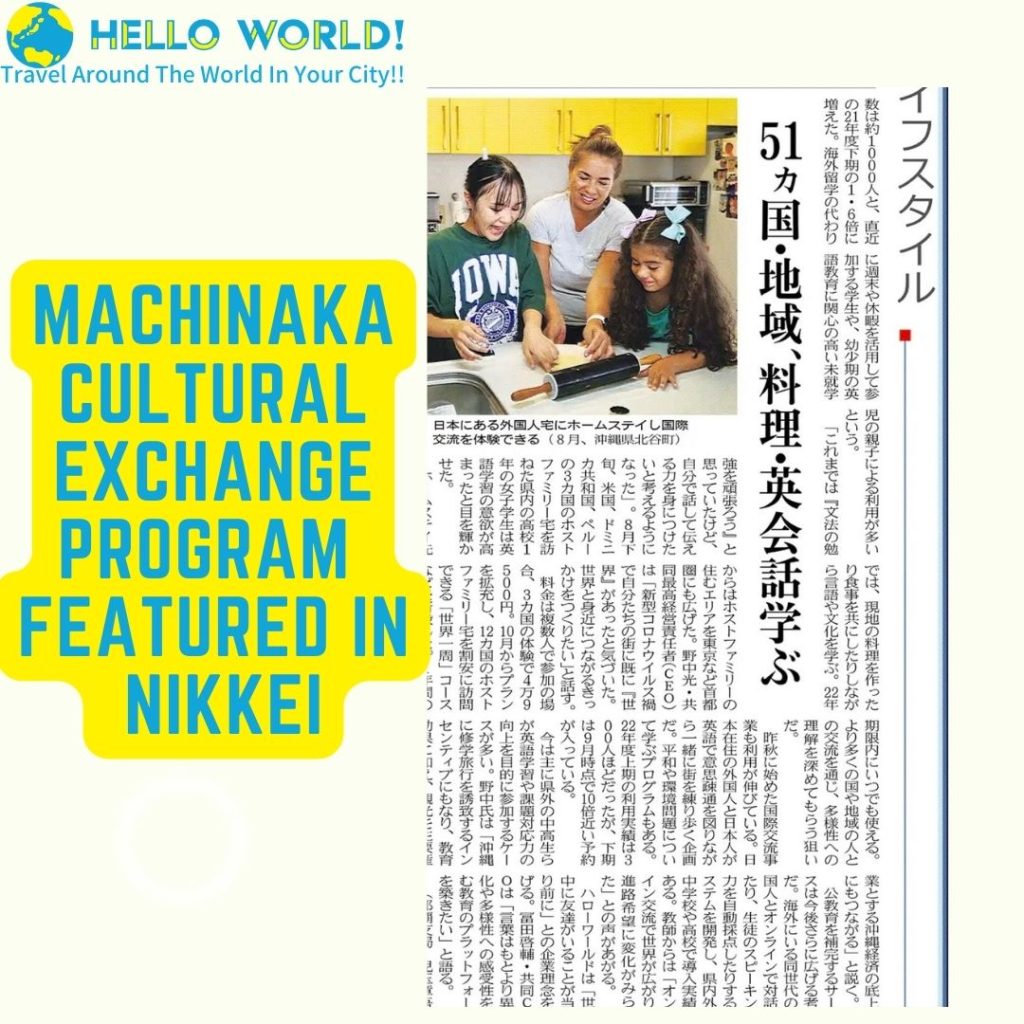 HelloWorld was featured in the Nikkei Newspaper, one of the largest news companies in Japan, with a daily circulation exceeding 1.73 million copies. The article was published on October 6th, and includes a picture of the Cardenas family teaching their guests to cook some Peruvian Empanadas!
We are excited and humbled to have an article in this popular and widespread newspaper. Our hope at HelloWorld is to keep spreading our message of "international exchange for all children" not just in the Okinawa & Kanto areas but throughout all of Japan! The more that our program is shared in the media, the more we keep sparking students' passion for learning with HelloWorld through international cultural exchange.

Hosting Tips for a Festive Fall Season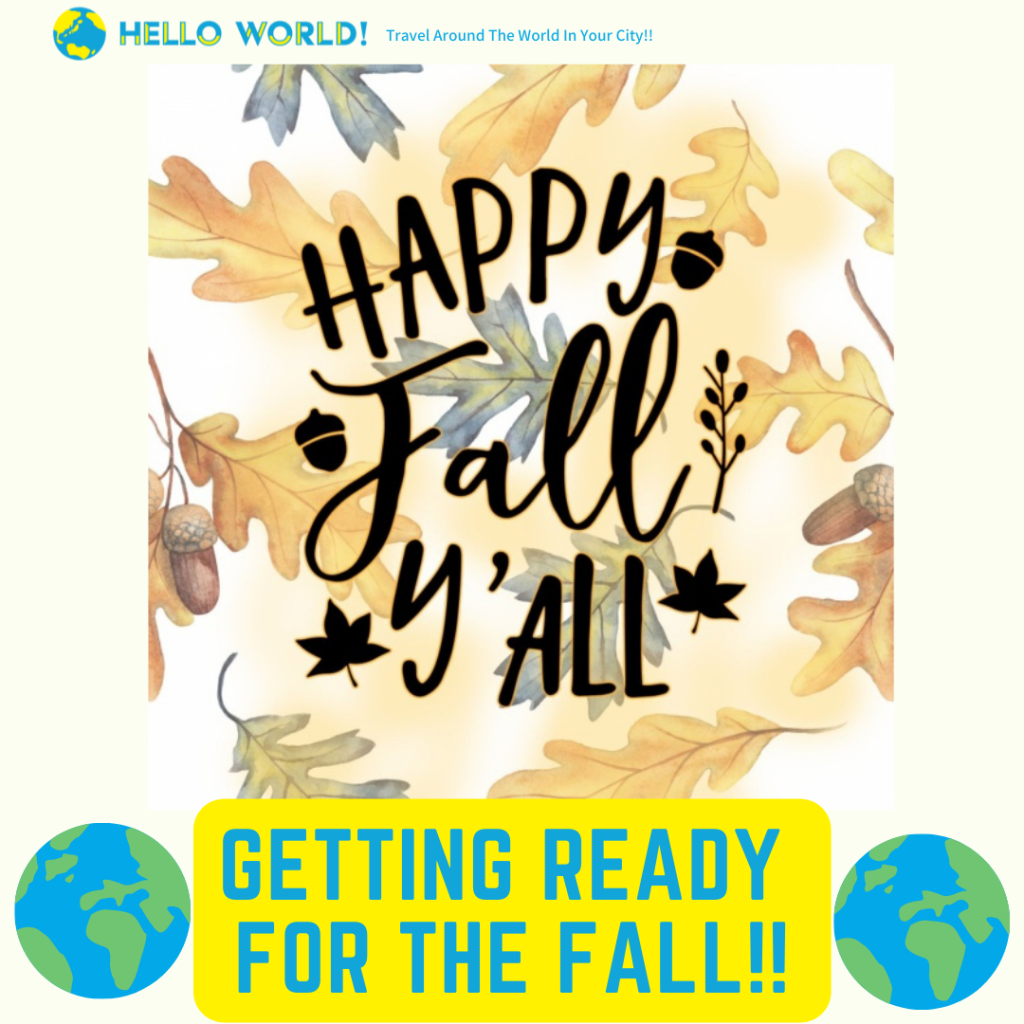 Midway through October, many have a sense of the fall season. While colorful leaves, hot beverages, and snuggly sweaters are on the mind, these seasonal traditions can be completely unknown to the Japanese, especially when the weather is not as reflective of a crisp, cool, fall day. Here are some ways to share the fall spirit with the exchange students:
Fall food. You can share some of your favorite food and beverages to evoke a sense of fall. It doesn't have to be all about pumpkin spice, either; you can introduce classics like hot chocolate, sweet kettle popcorn, apple strudel, homemade soups, hot apple cider, soft pretzels, candied apples, or your family's fall favorites.
Fall activities. There are a variety of ways to show off fall vibes: Create fall decor crafts with various materials in brown, red, orange, and yellow; Pumpkin carving or painting can be a fun activity and create a small souvenir for the students as well;
Fall vocabulary. Help students learn new words related to fall. Select fall words in fashion ("sweater," "overalls," "boots," "scarves"), activities ("pumpkin carving," "apple picking," "harvest," "corn maze," "raking leaves"), or food and drink ("cider," "strudel," "pumpkin spice") to play a customized game of Pictionary or charades.
No matter what you do during the fall, engaging with exchange students will help give them a unique and memorable cultural experience. We hope that you have a wonderful time sharing and celebrating this season with friends, family, and exchange students.